The Breakout Project -- "Kickstarter" Live
This past year, I've been lucky enough to be part of a pilot project here in Kingston, Ontario called Startup @ Sydenham
Duleepa Wijayawardhana
June 6, 2017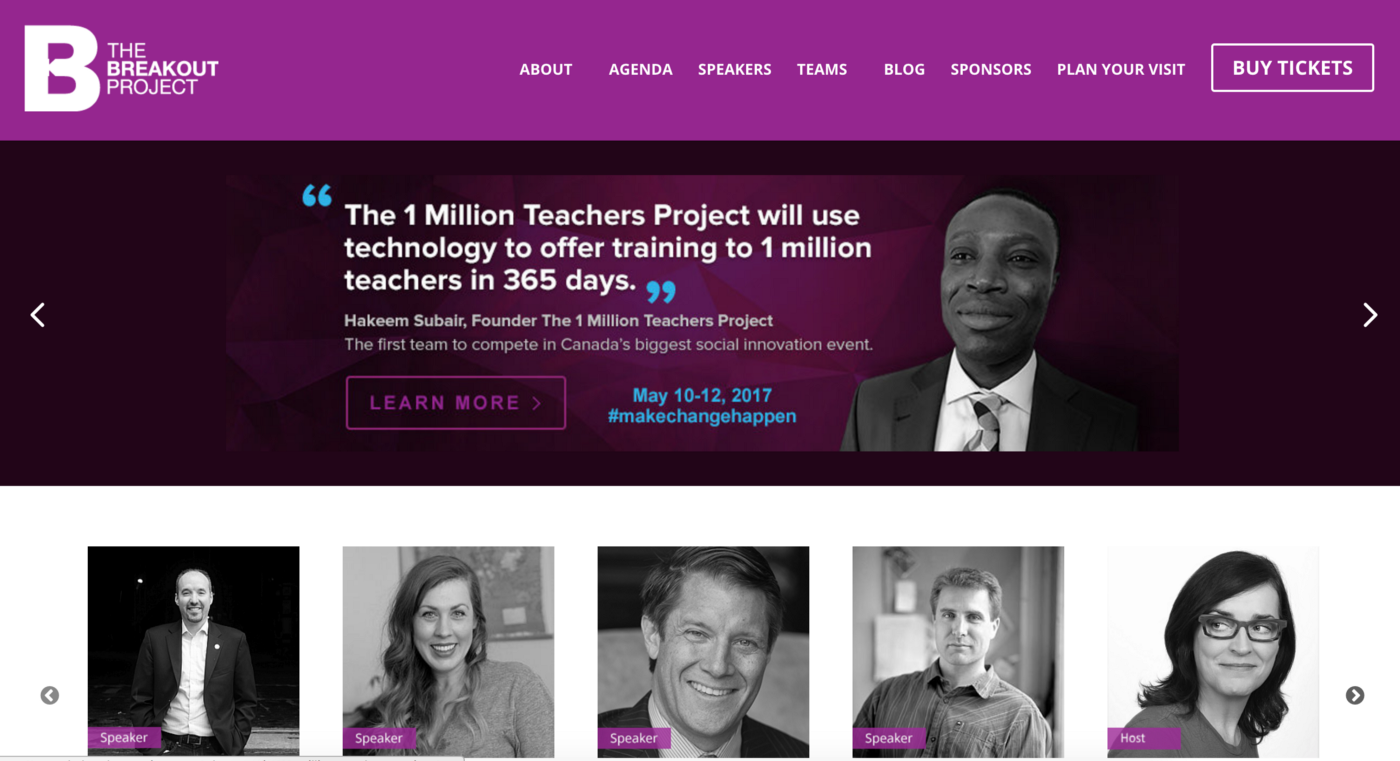 This week, 6 months of planning will culminate in a first-ever event of its kind in Kingston, Ontario. The Breakout Project combines a hackathon and a conference together in the aid of starting and promoting projects of social good, it is "Kickstarter Live". I cannot be prouder of the production team, the sponsors, the partners and of course the amazing participants, teams, attendees and the speakers. This will be one incredible week. And it will be broadcast live from Fort Henry, Kingston, Ontario, May 10–12.
About 9 months ago, the board members of Innovate Kingston, an entrepreneurial led community organization of which I am a founding board member, came up with this crazy and wacky idea. Within a short three months, we had received enough funding from various levels of government and community organizations that we threw ourselves into planning an event that would be only 6 months away. I don't doubt there was a large dose of healthy skepticism: 6 months to produce a world-class event with world-class speakers at a 200-year old fort in a format that had not been attempted before and certainly not by the group of us who, myself included, would mostly be working as volunteers.
But here we are. It's May 7; on Wednesday, May 10, the doors will open at 6pm, the live broadcast begins at 8pm. Amber MacArthur will be on hand to open, Nora Young to host on Thursday and Tom Clark on Friday. We have 8 teams that have been vetted and will be live kickstarting their projects, volunteers to help us get this done, a brand new online platform that will service all the teams, donations and work of the teams. We even have a beer, "The Breakout Project" brew by Mackinnon Brothers and Kings Town Beer Company that will be served throughout Kingston, Ontario and a free concert by the Sam Roberts Band on Friday May 12.
We have amazing speakers: from Silicon Valley CEOs and Investors, to amazing motivators, to open source and social good leaders. With speakers from San Francisco to Munich, we'll be hosting people from around the world.
The question is, what happens now? We want you to attend online or offline, follow the teams, participate, learn, engage and interact. We want you to spread the word. Yes this is the first time this event has been done but every event and spectacle around the world has a first time. We want you to be inspired, but also to be inspiring; these teams will need your help, they need your expertise. That expertise does not have to be technological, we need writers, artists, designer, dreamers. You don't have to be here; you can be anywhere.
I'm so very proud of what this team and city has accomplished especially the full time staff of Natalie Lecomte-Wood, David Peralty and Kalli Ringelberg and of course our CEO Grant Goodwin. No matter what, we've shown what dedication, passion and hard work can accomplish in just a mere 6 months.
Please follow www.thebreakoutproject.com, or Twitter @thebreakoutproj. Please spread the word and be part of the event and movement. If you are anywhere near Kingston, come to the event, if you are anywhere online, come join us live.