Midsummer in Finland's Archipelago
Between May and June, Finland undergoes a cultural metamorphosis with eternal sunlight and joyous laughter.
Duleepa Wijayawardhana
June 25, 2018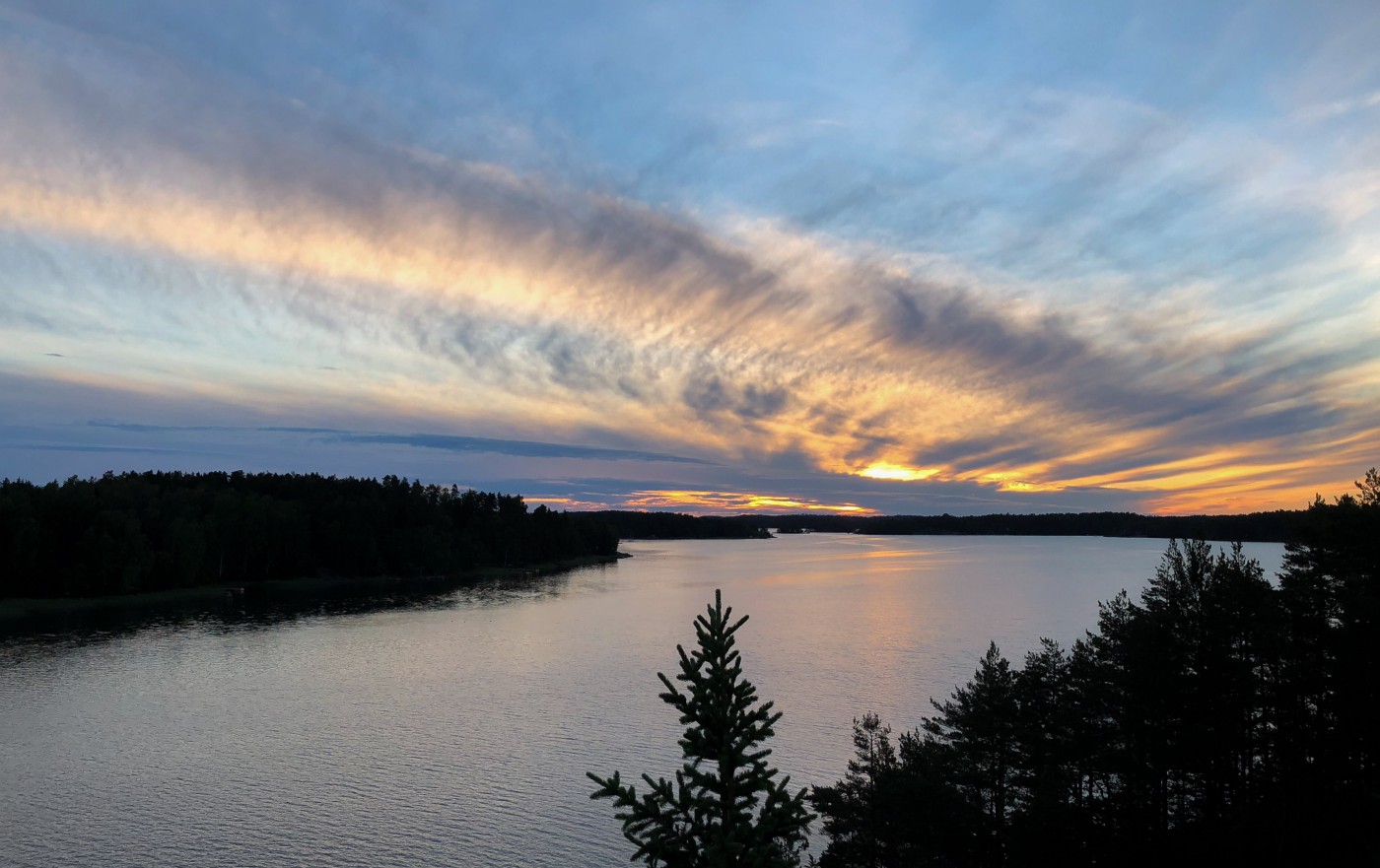 Video: Midsummer celebrations where the neighbours dropped in with accordion and guitar to serenade us all with a traditional song of Finland from Lasse Mårtenson.
Between May and June, Finland undergoes a cultural metamorphosis. After many months of darkness, like leaves budding from branches or a beautiful butterfly exploding from its chrysalis, the Finns come to life in the brilliant sunshine that greedily gobbles ever larger chunks of the night sky. Then comes the solstice: The longest day of the year; Juhannus, Midsommar.
My first midsummer celebration just completed on the islands of the Finland's massive archipelago. I celebrated with Kaj Arnö, Monty Widenius, and other former MySQL colleagues and friends amongst the islands surrounding Nagu (Nauvo), about three hours by bus from Helsinki in south-western Finland. This area is populated primarily by Swedish Finns and, like everywhere in Finland, the midsummer traditions run deep. The islands are far from the major cities and dotted with summer cabins to which all of Helsinki flees the day before midsummer. Having now witnessed the mass exodus, visiting Helsinki during Juhannus would probably be the equivalent of visiting a ghost town, complete with tumbleweeds.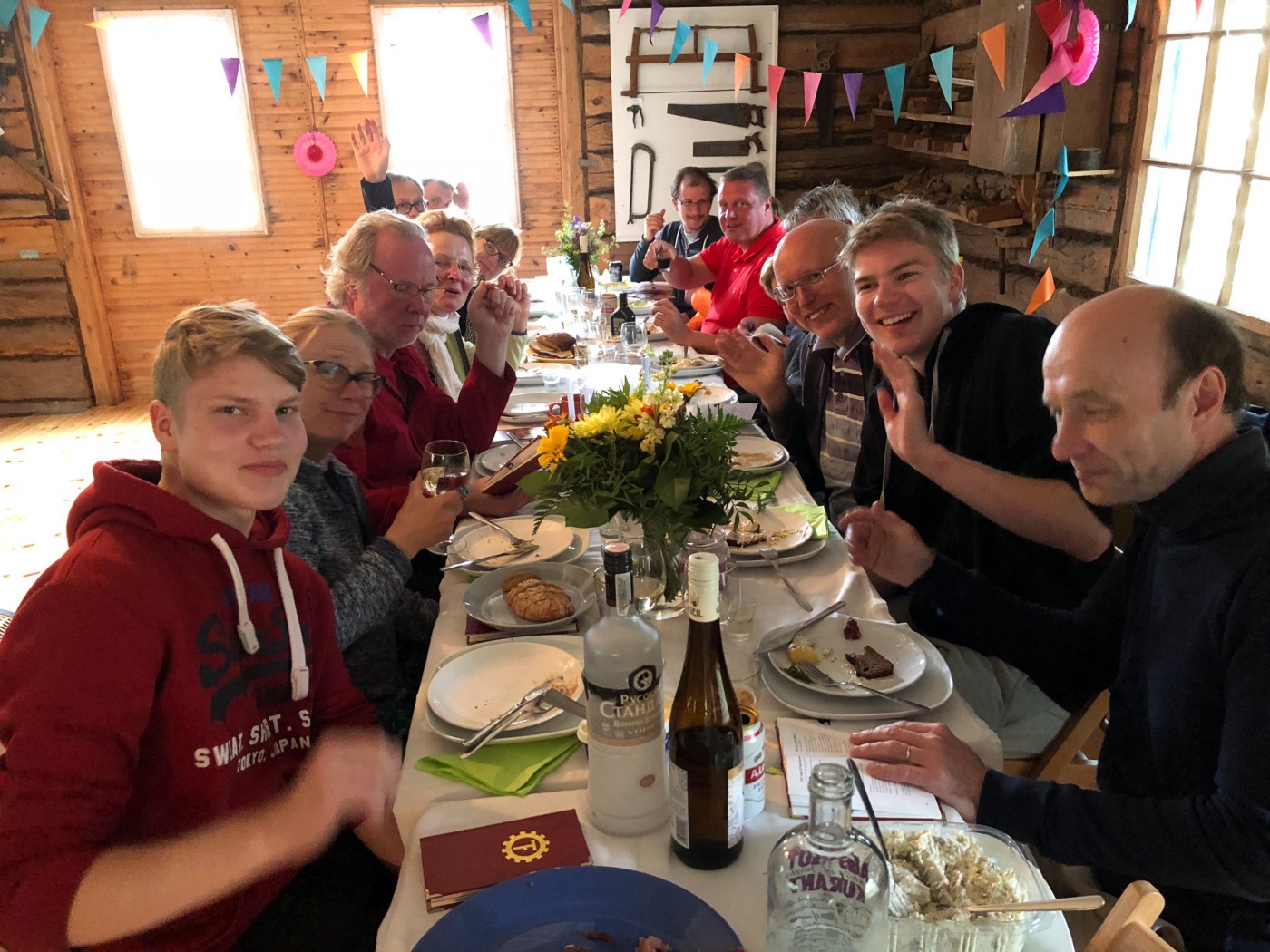 Photo: The group on the second night of midsummer celebrations
This year's solstice day itself dawned windy and stormy. The first order of business was to gather around a flag pole and raise the Finnish flag. I noted later that there was hardly a cabin in the archipelago without a Finnish flag flying high and proud during midsummer. With the flag now happily dancing in the Baltic wind, the celebrations could begin. I cannot condense a two-day celebration into a simple blog, so here are some of the highlights freeze-framed in my mind.
Retiring to the main cabin of Nina and Ralf Wahlsten, I was instructed that the 30+ guests were to sit man, woman, man… in that order. Along with the usual cutlery, there were two slight differences that caught my eye, a book of songs in Swedish and Finnish next to the plate and a shot glass. Starters of new locally-grown potatoes, home-bade rye bread and many types of herring were passed around and the shot glasses filled. To be fair, dining turned to be a constant race between downing enough food or getting mightily tipsy. Every few minutes a designated person (Bjorn the first night, Kaj the second) would start a song. We few foreigners (there were a couple besides me) would reach for the book and join in ending with a raised shot glass, a cheer (skål) to the right, a skål to the left and a skål to the person opposite (women do left, right and centre).
There were songs about university, songs about people, songs about u-boats and, yes, songs about drinking in both Swedish and Finnish. The songs were animated, complete with train whistles, submarine gurgles and coordinated table thumps. This was a group of people who had grown up together with these traditions and now their children were being trained in the same traditions. Despite my inability to contribute in Swedish or Finnish, with enough shots, I massacred a Sri Lankan song, "Siripada Samanalakande", and Newfoundland's "Rolling of the sea". As you can imagine, the sobriety level decreased, the joy increased and the food always plentiful. Even the neighbours joined in with an accordion and guitar. Of course, neither "night" ended without the obligatory sauna, jump naked into the cold Baltic sea and back into a hot tub or sauna.
For me this was very much like showing up in outport Newfoundland at Christmas. Food, drinks, good cheer and such an electricity of pure unadulterated joy that you would have to have a heart of coal not to enjoy the festivities. Add vodka shots, drinking songs and saunas and you have a recipe for night turning to day with nary a blink of an eye, or perhaps more appropriately, the downing of a shot of salmiaakki. I didn't feel homesick (okay maybe a little, considering the late night phone call to Montreal ;) but certainly I felt right at home in the woods, in a cabin, with such amazing company, food, music, singing and wine.
While I've experienced many events in Finnish culture that I have found both fascinating and joyful; So far the most joyously friends-and-family-filled celebration has been Juhannus. I can't wait to experience it again in another year. I will at least, as with everyone else here, have something to look forward to in the dead of winter when the sun barely bothers to get up.
Of course, it would be nice if my liver also recovered by then.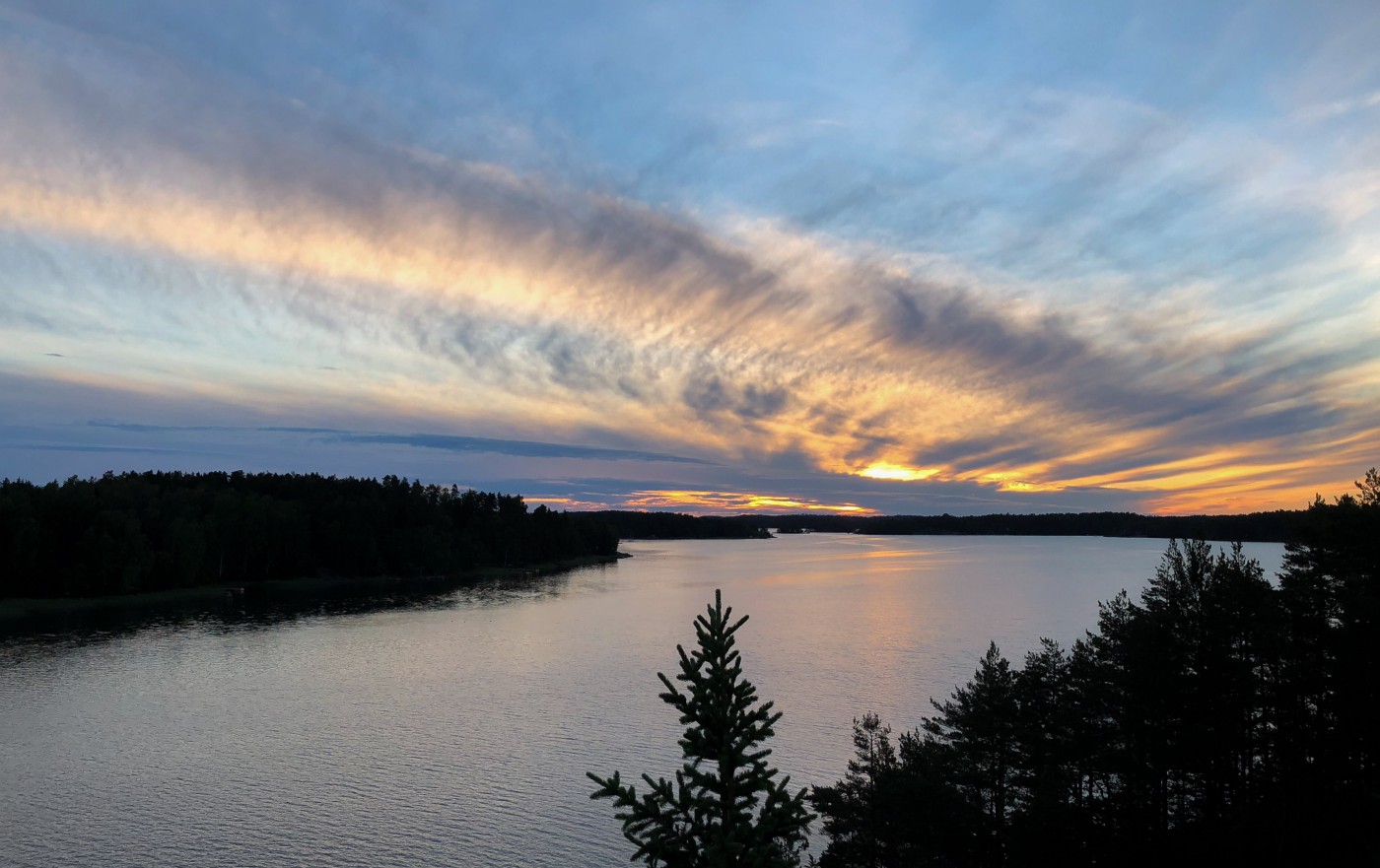 Photo: Good morning sunshine at 4:30am… yes the sun had been up and really it was twilight overnight.